Here is a post. I will put pictures in it. They will almost all be of jewelry.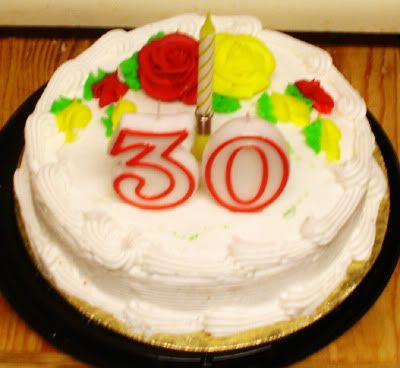 Except for this one, which is cake. It is my cake and I feel old. It is, however, a delicious cake, so that helps.
I did have Derek light the candles, but that didn't photograph well. Not that this is a good photograph anyway. But it's the only one I have.
Anyway, I'd been meaning to take photos of my frog jewelry. I collect frogs, especially blue ones. But I love frogs of any color. I'm not frogist.

Frog earrings. The pewter ones in the middle are "illusion" earrings, supposed to kind of look like they're leaping through your ear, which... is about as odd as it sounds. I like them, but they're a bit heavy (pewter and all). The plastic googly eye ones are among my very favorites. The little green-gem-studded frogs have a matching pendant, which I didn't photograph, because it's the same frog base.

Post earrings and two of my frog rings. The splotchy frog earrings are clay and look better in reality, darn. The left frog ring is from Derek, the first time I met him in real life, and the right one is a poison ring, which is awesome.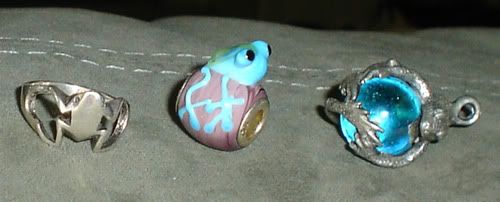 My other frog ring and some frog pendants. The glass bead one turns upside down when it's on a cord, which is funny. It sits in my main necklace-storage-thingy and guards them. I love its feet. The marble one just doesn't like sitting on a couch.

Those two again, and another pendant--it has a really cool rainbowy shimmer behind the glass ball--and my frog ear cuff.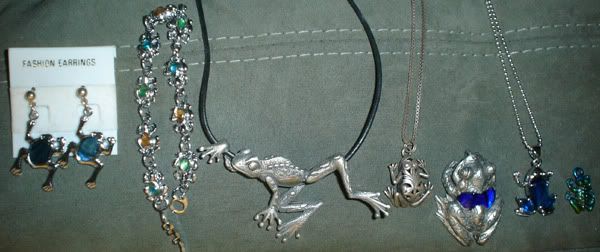 My brand new birthday earrings on the left (which is why they're still on the card), a bracelet that matches them, and some necklaces. The big one not on a chain/cord is really heavy; it's pewter again around one of those squished marble things. I love the blue. It photographed really well.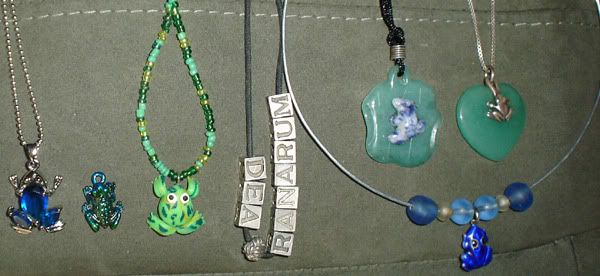 The ones on the left here are in the picture above, too. Just trying to get a slightly better shot of them. The really little one is nice--it's blue on the top and goes green. I had a jump ring on it so that I can wear it on a chain, but it broke and I haven't fixed it yet. The one that is not actually a frog is Latin for frog goddess, and it was from my friend Jean. The metal circle one is one I made; it's just a choker. The aventurine one on the right is also from Derek.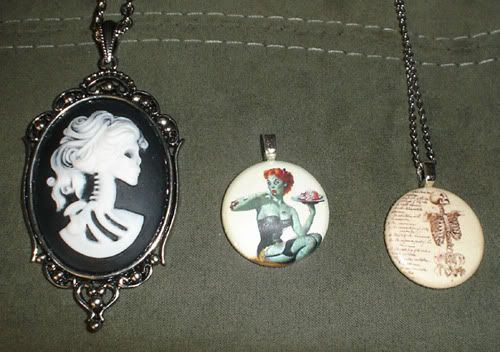 And these are not frogs at all. They are my presents from Bon! The skull cameo is brand new. I got a compliment from a stranger the first time I wore it! The other two share that chain; I just swap it depending on my mood. I wear them really often, actually. They live in my main necklace case, which also has my skull from Enri and my labradorite necklaces. I love all of them.
Current Mood:
good